Exodus: The Climate Migration Crisis.
Forced out.
Nigeria is home to two strikingly different, difficult stories of climate migration.

Lake Chad is shrinking. A combination of warmer temperatures, climate change-influenced drought and water mismanagement has caused the lake, set on the borders of four countries (Nigeria, Cameroon, Chad and Niger) to shrink more than 90 percent, according to a study by the organization Climate Refugees. The damage to the livelihoods of those who fish the lake has been straightforward: fewer and smaller fish, worse access to water, harder lives, displacement.
"That displacement further destabilized populations already vulnerable from poverty," according to Amali Tower, Founder and Executive Director of Climate Refugees, "and brought them into further contact with Boko Haram, eventually forcing their flight out of the region completely." Boko Haram, the violent, jihadist militant group based in Nigeria, has capitalized on instability in the area, and receding water has exposed direct routes to villages, according to the study, furthering opportunities for armed attacks and recruiting.
The violence has led to a surge in refugees, with the United Nations estimating that the conflict has displaced 2.4 million, many winding up in Kano, Nigeria's second largest city, a bustling hub in the country's northwest.
But the impacts of climate change are also being felt far from Lake Chad. In Lagos, the coastal Nigerian megacity of 20 million that sprawls into the sea, the city and its citizens are at risk from sea level rise and the increased flood threat that comes with it.
The place where waters once relentlessly pushed into the city of Lagos is now home to the impressive structural skeletons of Eko Atlantic City, an upscale real estate development aimed at the wealthy — a development that has displaced many on the coast. And with the development, the city has gained "The Great Wall of Lagos," a coastal barrier aimed at protecting Eko Atlantic and the rest of Lagos from flooding and coastal erosion in the climate change era.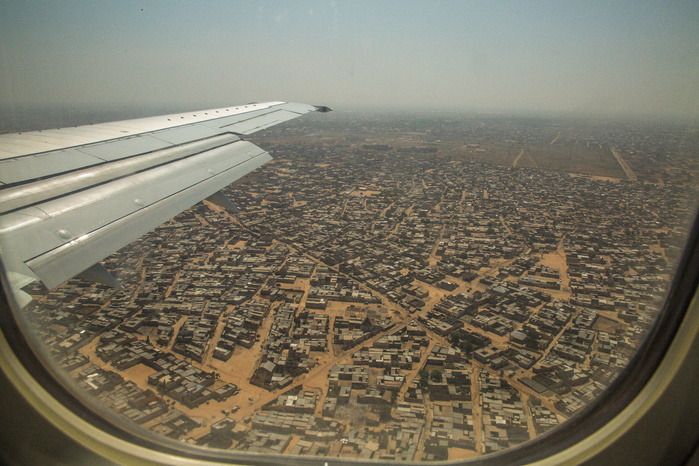 FATIMA AND HAFIZ

Fatima and her son Hafiz, the eldest child out of nine, are seated on colourful straw mats in their home in Kano, a one-room space with a patterned curtain dividing the room into two. A toddler is asleep in a corner, her gentle breathing interrupted by occasional soft cries that fade away into steady breaths. The girl has a little fever, according to Fatima.
The room, with its stained walls and crumbling ceiling, is a stark contrast to the life they once had.
Fatima is unsure of her age, but she thinks she's about 40. Hafiz is 24. They spent the majority of their lives in Kirenowa, Marte, a Local Government Area of Borno State near the western shores of Lake Chad. She had married Mallam Suleiman, a farmer and Islamic teacher, and lived in his home with her co-wife, Binta, and all their children.
Her bedroom was large in the old house, and the children had a space of their own. There was a verandah where they could relax and watch the bustle of their environment. Fatima used to sell food and owned a loom that she used to make sweaters. They farmed and fished and had enough money for all their needs.
"Life was much better then," Hafiz confirms, "We could go farm and use the water for the land very easily. And we could fish. The lake had a lot of good impact in our lives then."

Hafiz had started fishing as a child, as was common with most boys. He saw it as an opportunity to make something out of himself.

"The water is almost like a dam, with grass at the bank. The fish would hide there, and it was easy to catch them. On the water," he says, "I felt at peace. I wasn't afraid of anything, except the winds."

In 2006 the family noticed their daily catch was less compared to previous years. The water appeared further away from the bank, but they didn't think much of it because rainy season always brought it back. But their lives changed much more dramatically with the arrival of Boko Haram.

THE MOVE
In 2014, Boko Haram delivered a letter on a Thursday night through intermediaries instructing the people of the town to leave before their arrival Saturday. Friday came and there were no vehicles to be found — nothing going in or out. Boko Haram attacked Saturday morning.
Hafiz was in a room with his brothers and other boys his age when they heard the gunshots. Fearing recruitment, they all ran.
"All I could think about was that at my age, I couldn't fend for myself," Hafiz says. "I have siblings and my mother to take care of. All the fighting was blocking any dream I had. What was going to happen to my future? … As the eldest son, how would I take care of everyone?"
Everyone ran, splitting up, but eventually reuniting at a nearby village that was quickly filling up with others on the run. The family, including extended members, totaled to about 50. Fatima's husband Suleimen made the decision to take the children and his wives to Maiduguri, then free from Boko Haram. They stayed with a village head, but feeding the large family was difficult. They survived on scrapes from the base of pots. As the months turned into a year, they started eating grass.
Hafiz remembers the younger children falling sick, crying. The adults cried too. Unable to fully grasp what was happening around them, Fatima's young children were confused and unsettled. "They weren't going to school," she says. "They didn't understand why their lives were changing so suddenly. I could see the difference and fear in them."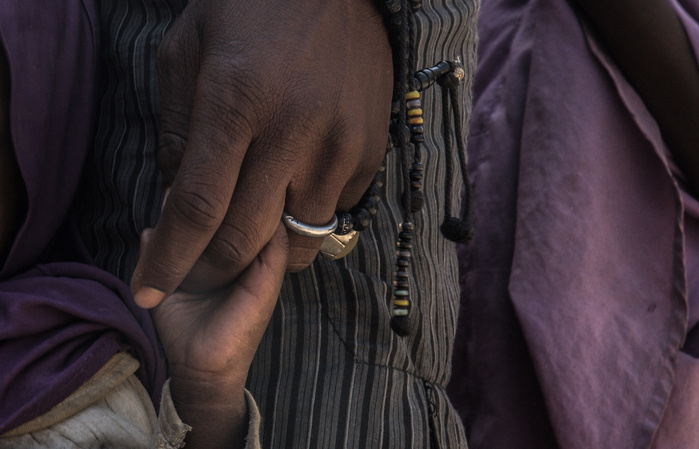 KANO

As more fled to Maiduguri, living conditions became unbearable, and Suleimen moved his family to Kano, where he had attended Quranic school. On arrival they were supported by a community keen to help by providing food to families fleeing Boko Haram. Some gave money, and Fatima sent the children to sell pure water for extra money to buy food.
At first all 15 of them slept in one room until the second wife, Binta, who was from Kano, moved to her own space with her five children. The boys started sleeping at their Quranic school.

Fatima is still adjusting to life in Kano. She wishes all her children could be under one roof again and hates worrying about her boys sleeping elsewhere.

Hafiz is thankful. "The good thing about being here is that I have the opportunity to further my Islamic studies and other lessons," he says. "Plus I can now fend for myself with shoe-shining, patching tires and helping with the local laundry. If I had my way, I would be self-reliant. I don't want to depend on anyone, because I don't want anyone to mistreat me just because I ask for something."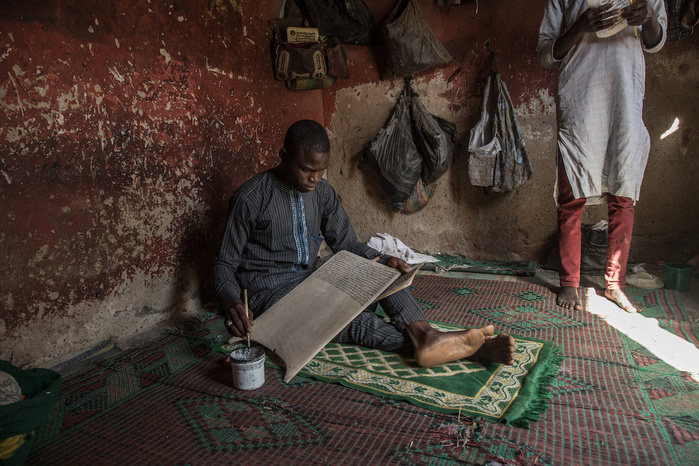 BINTA
Binta runs a household separate from her co-wife, Fatima. She also has a one-room space, but her children are fewer and younger. Her eyes are sharp, and the skin drawn tightly against her cheekbones makes her appear older than she is. She talks quickly and her voice has a bite to it.
"We were on our seventh day of fasting on the month of Ramadan," Binta says, describing the attack. "I carried my youngest on my back and took off." She was nine months pregnant.

As she ran, she could see a Boko Haram man approaching in the distance. Behind her was her husband. She passed the baby along to him, and the gunman saw, raising his weapon and firing at her husband. At that time, she says, they were targeting men. She believes prayer was the only thing that allowed them to survive. Like the others, they found their way to the village before making their way to Maiduguri where she gave birth two days later.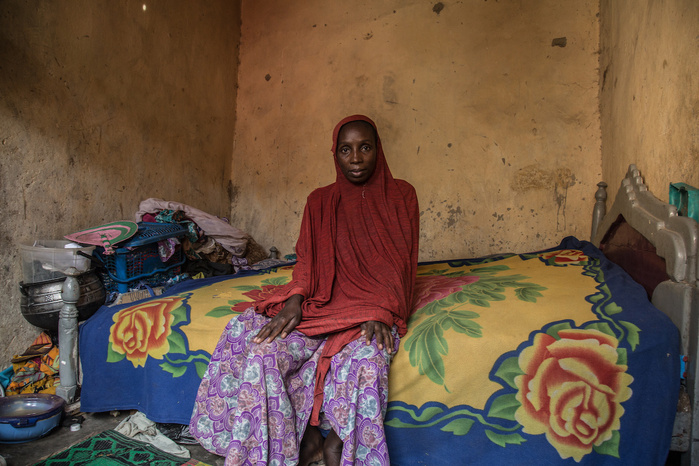 MARIAM AND JAMILA

Mariam, 19, and Jamila, 22, are co-wives with two children between them. They identify as Chadian, but grew up within the Abadam LGA of Borno State in Nigeria, also on the western shores of Lake Chad.
"Life was perfect when we were in Chad," says Jamila, seated with her co-wife on a thin mattress in one of their rooms. "We had everything. During the rainy season, we would farm and our husband would go out to fish. We were very happy there. There was peace."
Like many girls, they didn't fish, but could still recognize changes on the lake. It was normal for the waters to shrink during dry season, but over the years they noticed it shrinking more and more. Farming became harder, almost impossible. To get to water, they had to dig boreholes, something not everyone could afford. The fish stocks dropped. The harvest dropped. There was less money.

Jamila remembers a time as a child when the 'the water disappeared completely'. The village had emptied. As they watched the reducing waters, the familyentertained the possibility of leaving should history repeat itself. But they never did until Boko Haram showed up in 2013.
Every village had its own experience with attacks from the group. Sometimes Boko Haram attacked a given village sporadically; in those cases it could take months for a village to empty out.

"Ours took two weeks," Jamila recalls, squeezing her face into a frown and looking down at her feet. "Then the soldiers, upon hearing that Boko Haram was there, came and dropped the explosives and destroyed the whole village."
Mariam and Jamila escaped to Niger, crossing the lake on a boat just as Boko Haram was stopping all boat traffic. Some started tying jerry cans together to float across. They moved repeatedly, often fleeing Boko Haram, before moving in with a relative in Kano. They began trading from the house until they'd raised enough money to rent a few rooms of their own.
Jamila misses everything about her home, especially the personal belongings she didn't have time to pack.
Mariam then speaks.
"As far as I am concerned, I escaped with my life. I don't miss home," she says. "I feel like all hope is lost. Even if I go back, there is nothing to go back to. Everyone should know that this can happen to them. You could end up in the same situation as us. Value life, no condition is permanent."
SANI ABDULLAHI KAYIS

Kayis, 33, doesn't name his hometown but describes it as being on the border of Nigeria and Chad. He was born into the fishing business, learning fishing from his father but also attending a school that taught young men how to be independent through the trade, which convinced him to remain in his village and build a family. Like many successful fishermen, he was comfortable.
Now he lives in a single room in Kano.

Kayis brought home between N100,000 to N120,000 (about $278 to $334) after each fishing trip, often leaving it with his wife Shahida, now 22. He'd spend up to two weeks on the waters of Lake Chad at a time.

"My first joy then before a fishing trip is that my wife would tell me something that would make me really happy," Kayis says, "and I would carry that with me to the water. I would think about what she said, and I always look forward to returning to her."
Kayis says it was normal for the lake to shrink during dry season, an advantage for the fishermen who were able to catch more fish from the reduced water. And during rainy season, everything would return to normal. He boasts of catching up to 20 baskets of fish daily. "I believe that it was a miracle from God," he says, "the way we were able to get those fish."
Kayis started noticing changes in the early '90s. He becomes a bit animated, his hands talking with him, describing how high the water used to reach when he and his friends would go swimming.
"It would just cover us. We could sink into it. At one point, we noticed that if we stood in our normal spots, the water was chest level," he says. "We thought that the water was changing, but we didn't realise that it was shrinking. Then the water reached our waists and that's when we knew the water was really shrinking."
He presses his hands to the side of his waist to demonstrate. "Then it got to our knees, then our ankles." He touches his ankles.
He started hearing more stories of Boko Haram in 2012 and 2013.
"I believe that it was something that was prepared for a long time," he says. "It's just not possible that all of a sudden, overnight, a group of people can just get up and say this is what we want and start killing people."
Despite patrols and a government effort to defeat Boko Haram in the area, and despite the relative peace in his village, things were changing. The sale of produce slowed as checkpoints appeared, delaying traders. A curfew was put into effect from 6 p.m. to 6 a.m. And Doron Baga, a once- popular fishing center, became the only place with security and a working checkpoint between Chad and Maiduguri.
Kayis woke up one morning in 2013 to an attack. Shahida, seven months pregnant with their first child, wasn't in the large family compound. He remembers searching frantically for her. His uncles were calling, telling him the other side of the village had been burned down. They tried to stop him from searching for her and, hysterical, he told them his wife was given to him to care after because she is precious. "If I die," he thought, "at least I will satisfy my conscience that I searched for her."

After looking through parts of town, he returned to find her hiding in one of their many rooms. He had just purchased a new motorcycle and as they prepared their escape, a friend came running in, saying he was being chased by Boko Haram.
"I couldn't carry him on the bike as well as my pregnant wife. He ran out and I never saw him again," Kayis says, his voice heavy.
Boko Haram spotted them escaping on the bike, and gave chase on their own motorcycles before giving up. The couple arrived in a nearby village, and Kayis gave Shahida money to travel on without him to Maiduguri, to spend the night in the care of a friend before proceeding to Kano, her hometown. He knew she would have a place to live with her family. She refused, insisting they travel together, promising that an empty room waited for them on arrival. Kayis gave his bike away and followed his wife. On arrival, he discovered there was no empty room. Shahida remained in her family's home and he slept in a Quranic school.
They eventually found a one bedroom space in 2014, and Kayis got a job as a gardener and a private security guard.
"Sometimes I just lay in bed and think about all that has happened. I miss my friends, and I really miss fishing," he says. "I remember things that made me happy about home and it hurts me to know all the things that are happening. I used to think that the government would fix it and we could go home. But as time goes on, it's not going to happen and I have to remove those thoughts from my mind. But I believe that our children will hear that Boko Haram happened, but they will not experience it. That is my prayer."
"Out of everyone at home, I miss my childhood friend the most.We grew up together. Sometimes we would just take the boat, with no plans to catch fish, just to discuss things about life and our plans for the future. We still talk on the phone. he's still alive and lives in Chad."
"Knowledge is wide and I think that the Lake will continue shrinking, but it will never disappear.It goes, but it always comes back. Lake Chad is a world of its own.Only when the world ends, will the Lake end."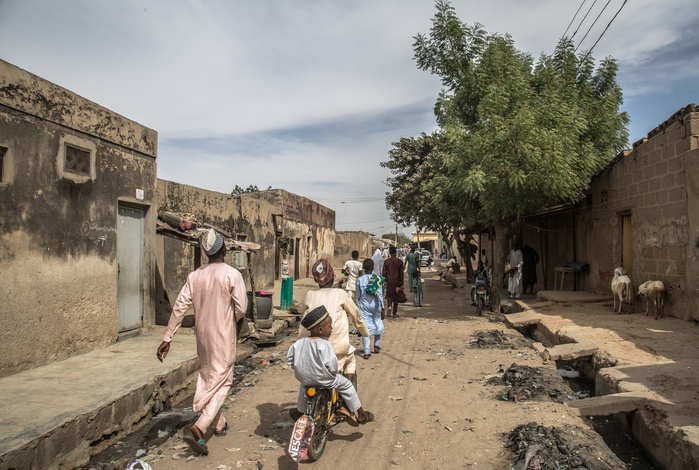 LAGOS

Lagos Bar Beach was popular for entertainment and relaxing, serving as a homer many - shanties buzzing with a variety of business. Some would come with their families to enjoy the ocean breeze, opting for beach chairs and an umbrella. Others would come with their vices, looking for a bottle or a woman. Many came for religious reasons, gathering at the shore of the Atlantic for a spiritual cleansing, their white garments bright in the sun. But Lagos Bar Beach doesn't exist now. Standing in its place is Eko Atlantic
The construction has itself been criticized for causing erosion that has impacted other coastal communities, funneling water in ways communities are unused to. Sixteen residents of Kuramo Beach, a community about a mile from Bar Beach nestled between the Atlantic and a lagoon, were swept away by water as they slept in 2012. The construction at Bar Beach was widely blamed. The state government, for its part, implemented a policy of clearing Kurama Beach and other coastal communities for safety reasons, with sea level rise from climate change often cited as a concern.
The area is a stretch of fences and security for future Lagos. But the memory of Bar Beach remains for many who once fondly and equally bitterly, called it home.
OSHODI

Oshodi, 47, describes himself as an artist by profession, but says he washes clothes and cars on the side. He pauses often as he talks, as if choosing each word with care. He remembers moving to Lagos from Imo State in the mid '90s with his father and siblings. His father worked at a radio station as a program controller and got Oshodi a job as the technical officer. Then, they lived in Ikoyi, an upscale area of the city. His father took him to Bar Beach shortly after the move.
"It was a very fine atmosphere then," says Oshodi. "People would normally gamble but there were good people there too."
He didn't frequent Bar Beach until his life took quite a turn. As a young music artist with ambitions, he had dreams of traveling to Europe, which he eventually did. Saying that he got set up and pulled into some drug business, he ended up in West Berlin for sometime before getting arrested and returning home. He lost his job and his father refused to support him further.
"Things took a turn for the worse, but I won't use that as an excuse. I was just about 30 and living on my own for the first time. I started doing odd jobs at Bar Beach in the early 2000s, but the small money I made, I used towards drugs."
He realized he needed to make changes after getting married and having children. Although he never lived on Bar Beach, he worked there, attending to the many tourists and helping to manage a barbecue stall. He recalls the water getting rougher during that time.
"You would just be minding your shop and suddenly, you will see the water eating the ground. It was very dangerous. The water would block the road," Oshodi says, "and it would take a long time to go back."
He says Lagos State started warning people and by 2012, placed security in the area to prevent people from going onto the beach.
"The sand-filling was the takeover by the Eko Atlantic," he says. "Government came in and told people to leave. They knew what the water was about to do. They kept pumping the sand to provoke the waters. The water then started to rumble. Many survived and many did not survive. From time to time, many died. Not in one day, not one year, but over time."
ONE LOVE

One Love, as she is called, remembers Bar Beach from when she was a child. After school, her mother would give her puff-puff, a fried dough snack, in a glass case to go and sell on the beach.
"One time, I left my mother's show-glass with everything, even the money and entered the water to go and swim. I was really small and didn't know anything. I was lucky that this white man was there," she says, adding that she didn't know him. "The water carried me so far and when they got me back, they had to press my stomach until the water came out. I can't forget that."
In later years, she moved to Bar Beach, living and working there for a decade, birthing two of her three children there. She describes the bustle of the beach and a bit of her work there "hustling" — the word used to describe sex trade.
"We had many guests at that time and people that hustled. Everyone hustled," she says. "But when the water started in 2009, 2010. Kuramo started to change. My place was the first to scatter."
One Love shouts her words as she speaks: "One Love place don scatta o! One Love place don spoil! You understand? But I bear am."
She remembers people dying in the fierce water in 2011. The next year, they were regularly raided. Babatunde Fashola, then the governor of Lagos and now the Federal Minister of Works, Housing and Power, told the residents to move. Many didn't.
"There was a time when the Baba came to play ball in Kuramo and he warned us. … They told us to go, we didn't," she says. "They told us that the water will pursue us. And it did."
She believed the government would provide a place to live and work, and she wouldn't have to hustle anymore. She would have a shop instead. But nothing came. She moved several times before settling in Jakande, in Lekki, about 10 miles from Bar Beach.
"We suffer them, we vote for them, nothing them do for us," she says. "Bar Beach was a correct area. … I saw good there, if it wasn't for the water. This place now, I've lost too many things. I have gained nothing. Everything I had was lost here."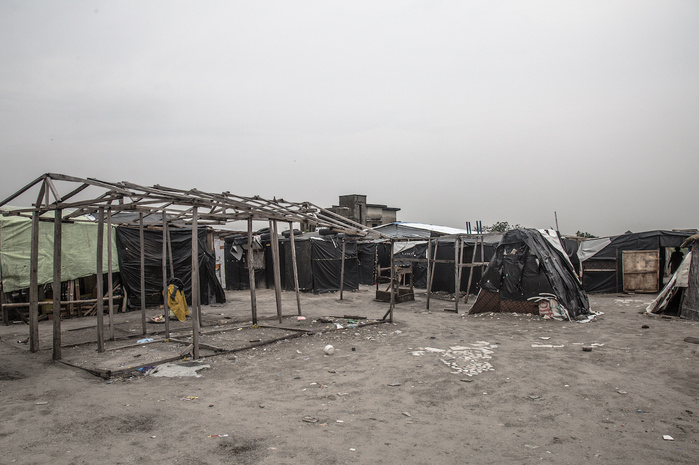 CHIOMA

Chioma, 35, used to sell foods at Bar Beach in 2003. She says she arrived at a time of a "road construction" by the waters which were already destroying people's homes and shops.
"I had nowhere to stay so I decided to move to Bar Beach and build my shop there. I was there for about 8 or 9 months when we were told that they were going to start building a road. Sometimes, they would just come and bulldoze everything down. But we would build up again. But this time around, it was the water that was chasing people."
She says the government didn't seem concerned. In that same year, the water came so quickly and forcefully that she only had time to gather clothes and her children. Her shop was washed away.
"I think the water started changing because of the road," she says. "Even before, the water used to come. But not like that."
She has been moving along the coastline ever since, often packing up once her shack gets knocked down. She has spent a year in Aboki Estate, another community nestled between the Atlantic and rising concrete homes, held together by wood, tarps and cardboard. A rented space is estimated to be about N4000 ($11) a month. The rising of Eko Atlantic can be seen faintly in the horizon.
In Aboki, she doesn't have work. Her husband fell seriously ill and all her savings went to his medication before he passed away. She still remembers the liveliness and the success that Bar Beach brought her.
"You could put anything on your table and sell it," she says. "There was money on the beach. In a day, I could make between N30,000 to N40,000 ($80-$110). I used to go to the market every day. I would wake up at 4 a.m., prepare my children for school and go to market. By the time I got to my shop, there would be a queue."
She is interrupted by her friends nearby arguing about Eko Atlantic. She laughs, "When I went there last week, I saw it. It's very fantastic. I dream about that place. It's very fine."
ELIZABETH
"Elizabeth" is seated inside a small, empty wooden bar. Her eyes are dark and narrow. There are small, but deep scars all over her body. But nothing gives away her age, including her. She starts describing her love for "flexing" (enjoying her life). That's what drew her to Bar Beach. She had her daughter at a young age, and she says her family took the baby and, upset, refused to send her to school.
"When my baby was taken from me," she says, "I came to Lagos with one of my girlfriends. She introduced me to all these runs ladies (sex workers). We would go in groups and come to Kuramo. We would flex and see the street boys from our area and hang out together. Everyone had a boyfriend. Back then, it was the women who used to do all the hustling."
In 2002, Elizabeth rented a house, one of many flimsy wooden shacks on the beach. She describes it as a peaceful time, with bankers, nurses and ministers living nearby. Bar Beach was the main area for the shops and activities, but the rest of the stretch were communities of homes. During that time, the water did take people, she says, but they were mainly distracted party-goers. She says the water started to really threaten Kuramo in 2012.
"This our country, one thing is that, what they are supposed to do, they will not do it at the right time."
Like many others, she remembers the governor warning them.
"He called us refugees," she says, "He said that he will give us a place to stay and we should start to prepare."
Elizabeth returned to her village in Ondo State, but eventually returned to the area, saying that not enough has been done for her and others displaced by the water.
"In Nigeria, argument dey too much, over-do, I-too-know, na e dey kill us."
"We are not equal," she says.